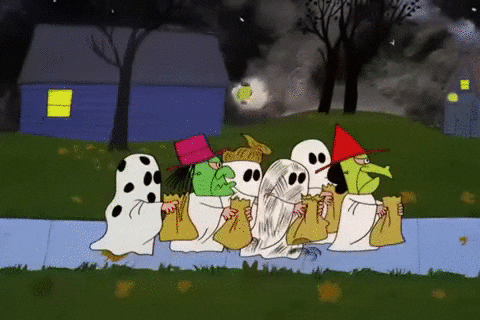 The best strategy for a child trick-or-treating on Halloween night is simple and can only guarantee high candy revenue—knock on as many doors as you can! The bigger the candy bars, the better the block! Now that you have to be the adult, however, your strategy changes from seeking any street with sugar to discovering which street is the safest, the most illuminated, and the most free, for the most part, of murderous psychopaths.
Having just recently moved with my wife and two young boys to Davis County, I've had these concerns myself. I want my sons to have a great Halloween, so I've done some research and have put together a list of some of the best places in Utah to trick-or-treat this year.
Where to Trick or Treat
If you're looking for a safe neighborhood with enough candy to put you into a sugar coma, try these:
Pepperwood (Sandy). Pepperwood is a gated community, but trick-or-treaters from the outside are always welcome.
The Bountiful Bench (Bountiful). Word on the street is that the Bench hands out giant candy bars.
Olympus Cove (Millcreek). Much like the Bountiful Bench, Olympus Cove is a safe neighborhood and boasts some of the largest candy bars around.
The neighborhood surrounding the LDS Temple in Draper (Draper). Not only will your kids score bagloads of candy, but you'll also have fun walking in the shadows of some pretty spectacular homes as you do. Be the hero that takes his princess-dressed daughter trick or treating at a castle. Yeah, some of the homes are almost literally castles.
Centerville (Centerville). Centerville was recently ranked 18th in the nation for trick-or-treating.
If neighborhoods aren't your thing, a lot of cities such as Provo and Logan provide trick-or-treating on Main Street or other business areas. You'll approach well-lit businesses instead of dark doorsteps, and all your children will care about is that candy is provided. Want to get out of the cold? Try your local shopping mall; several malls host trick-or-treating every year. If you're not sure if your resident city provides this service or not, visit the city website and check the upcoming events.
Depending on where you live, you may not be within traveling distance of the neighborhoods and events mentioned. If that's you, please post your favorite neighborhoods for trick or treating in our comments section below.
At Fluid Advertising we love writing about local activities and local businesses. One such article that you may enjoy is titled Things To Do On Valentine's Day In Utah.